The Evening Parade is a marvelous display of planning and precision formations held weekly throughout the summer. This parade is held at Marine Barracks in Washington DC, which is the "Oldest Post of the Corps." Marine Barracks has been used for many events since the early 20th Century including Presidential inaugurations and other special celebrations. The formalized parades at Marine Barracks began as reveille drills and maorning muster parades.

As they formalized, the Barracks began to host seasons of regular parades, scheduled weekly. These began in 1934 and were conducted from 4 or 5:30pm on Mondays or Thursdays. Because of thier late-afternoon time frame, these parades were referred to as sunset parades. These weekly sunset parades were held through the summer and fall and would conclude on the anniversary of the Marine Corps of November 10th. The present-day Evening Parade was first conducted on July 5, 1957. They continue to be held every Friday evening at the Marine Barracks during the summer months. The Evening Parade follows strict guidelines to prevent any fancy thatrics which were frequent in the early days of the parades. Since its inception, the Evening Parade has become a tradition at the Marine Barracks and the parade's heritage is entwined with former military rituals such as tattoo, retreat, and lowering of the colors ceremonies. The Evening Parade is offered solely to express the dignity and pride that represents more than two centuries of heritage for all Americans.
First lady Michelle Obama, daughter Sasha Obama and U.S. President Barack Obama attend the Marine Barracks Evening Parade on June 27, 2014 in Washington, DC. The Marine Barracks Evening Parade is a tradition held in Washington and is in it's 57th year.
First lady Michelle Obama, U.S. President Barack Obama, Marine Corps Commandant General James F. Amos and his wife Bonnie arrive for the Marine Barracks Evening Parade on June 27, 2014 in Washington, D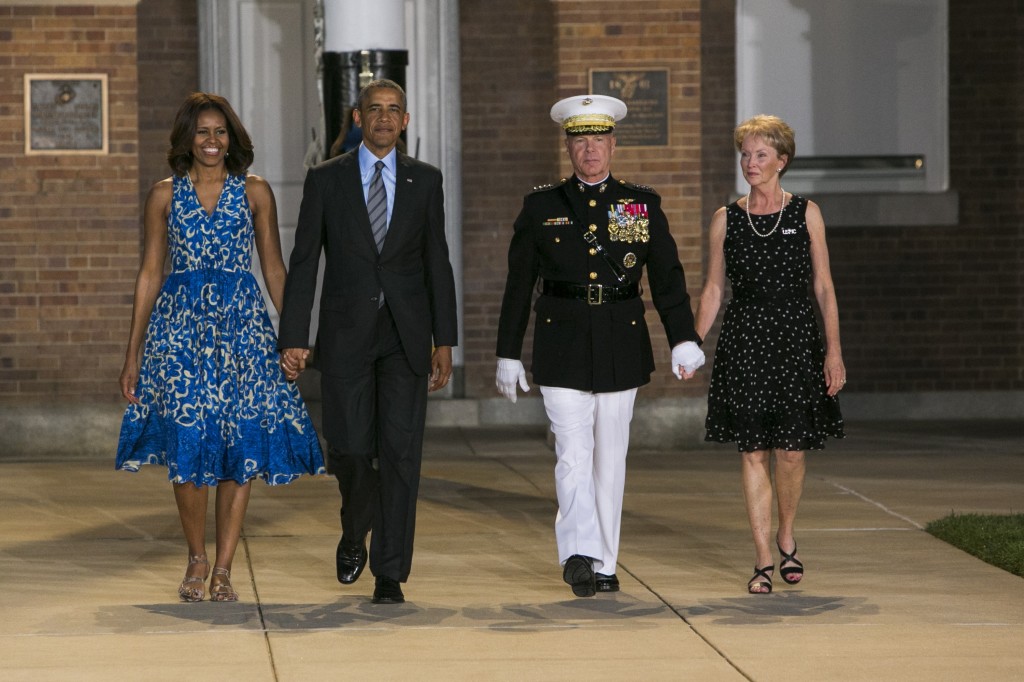 Comments
comments