Michelle Obama has told how she tries to encourage healthy eating habits for her teenage girls without getting into the potentially tense conversations about weight gain or looks.
'We don't talk about weight. We don't talk about physical appearance. We talk about health. We talk about what's on the inside, so we keep our messages really simple and practical,' the First Lady said in an interview that aired Friday on The Today Show.
'I want my girls to grow up to be strong, healthy young women who aren't afraid to exercise and they see it as fun.
'All I think about is whether my kids are happy and safe and if they're growing up and learning values.'
While she may try to shield Sasha and Malia from the glare of the spotlight, she is subject to the scrutiny of the White House.
Mrs Obama was interviewed by Today Show correspondent and former First Daughter Jenna Bush Hager, who said that she was well versed in what it was like to be a teenage girl that called 1600 Pennsylvania home.
They talked about how the attention paid to Mrs Obama's clothes or looks can be both annoying and useful, and has been something that she needed to embrace.
'It's always there. I'm not the first one to go through it. Your mom, you know, it was the same thing for her. I still know what dresses she wore for state dinners,' Mrs Obama said.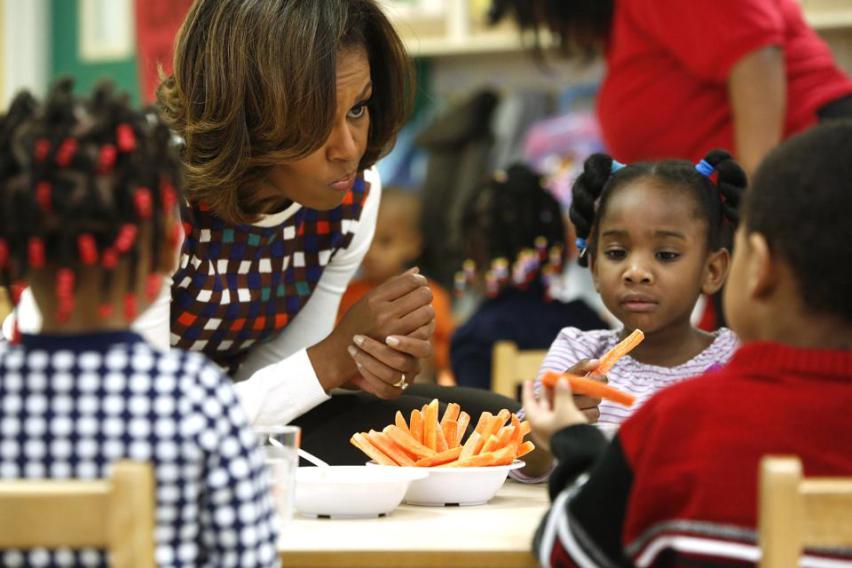 'My philosophy has been, okay, if you're looking at me for whatever reason, let me make sure I'm standing in front of something really important so while you're seeing my shoes, you may also see these kids jumping around in this preschool. So as long as the outcome is substantive, I'm okay with the means to the end.'
This week marked the fourth anniversary of her Let's Move healthy eating initiative and she celebrated with a series of events up and down the east coast.
Mrs Obama said that the initiative came out of a cultural shift in the way that American families are eating.
When we were growing up it wasn't an issue because our natural existence was fairly healthy. Rarely did you go out to eat in fast food restaurants. My mom cooked dinner, we always had a vegetable,' she said.
'That's one the reasons why I've been so passionate about this with Let's move because we know how to do this. We just sort of lost our way as a society and as parents and if we give parents the information we can get them back on track, I know we can.'
Known for her early morning work outs and vegetable-heavy meals, Mrs Obama said that she does her part to try to lead the way for both the girls and the country at large.
'I try to model the behavior that we talk about all the time,' she said.
That behavior includes regular dancing spoof videos, like the one that aired on Jimmy Fallon's show earlier this week.
'You know, fortunately they weren't too horrified,' about the skit with Fallon and Will Farrell dressed in drag.
'I think that they're used to me doing really silly things to get people engaged and laughing.'
Comments
comments